What is sectarianism?
Many people outside of the West of Scotland and Northern Ireland tend to be unaware of extent of sectarianism in the UK, but in those areas, it is an issue that has blighted the lives of many for centuries and remains deadly to this day.
Sectarianism is a form of prejudice, discrimination, or hatred arising from attaching relations of inferiority and superiority to differences between subdivisions within a group.
Below are some of the best Middle Grade books I have read and used in schools to teach issues around sectarianism. The list is not exhaustive and I will continue to add good books to it as I come to them.
You can find more information about my read and review project here.
………………………
'Divided City' by Theresa Breslin
Set in Glasgow, the story begins dramatically when a young asylum seeker is viciously assaulted in a racially motivated attack.
I have taught this book as a class novel to 5 different Primary 7 classes and one Primary 6 class. It is without a doubt one of my favourite books to teach and it has been received well by every class I've taught it to.
Although most schools in Glasgow and the west of Scotland will teach this book in the upper primary, I have taught it in schools in the east of Scotland and recommended it to colleagues through here too. They have all reported positive results with their classes.
While sectarianism in Scotland has long been associated with Glasgow and the west of Scotland, crime statistics show that it is an issue throughout all of Scotland, particularly when associated with football.
But, you do not need to be Scottish or have issues with Christian sectarianism in your area to enjoy this book and use it effectively with your class. There are endless teachable points throughout, including:
issues facing asylum seekers and refugees
teen relationships- both romantic and friendship
relationships with parents
handling cultural expectations you may be uncomfortable with
being truthful
family mental ill health
sporting rivalry
history of Glasgow- comparison with your town/city/country
violence
Initially, when introducing the book, some children who do not like football have been nervous that they will not enjoy it, other classes that have had more traditional gender stereotypes in their attitudes have worried that it would be a boys book and not for them. So when introducing the book, I have always been keen to point out that the book has more themes to it than just football and even though the main characters are male the messages are universal.
Once we have started the book, all the children who have reservations about the football theme quickly disappear and the variety of themes throughout the book mean that there is something for everyone to enjoy and discuss.
The football theme has also had the added bonus of engaging some of my reluctant male readers in the past, so it is not to be played down completely.
I could not recommend this book more to teachers in upper primary classes, not only for their class libraries, but as class readers and a stimulus for topics on diversity. While the messages contained in the book are particularly important for communities in Scotland and Northern Ireland where Christian sectarianism has been and continues to be an issue, the book is also relevant elsewhere as a valuable resource to teach about the dangers of hating another group.
---
'Across The Barricades: a Kevin and Sadie story' by Joan Linguard
I first read this book myself when I was in Primary 5 as it was in my class library and it fast became one of my favourites to read and re-read over again, along with the others in the series (reviewed below).
Growing up in Glasgow during the troubles and experiencing sectarianism myself as a child, this book was an excellent explanation to me of some of the issues faced by both sides at the time.
Now, it is a staple in my class library for older Primary 6 and 7 classes. I have found that it has been of particular interest to children who have covered Divided City with me as a class reader before and want to read more on the topic.
I tend not to use it as a class reader in the same year as I read Divided City, so that I can have a variety of themes, but would certainly recommend using it that way with an upper primary (and beyond) year group that was not covering Divided City.
A highly recommended addition to class and school libraries.
---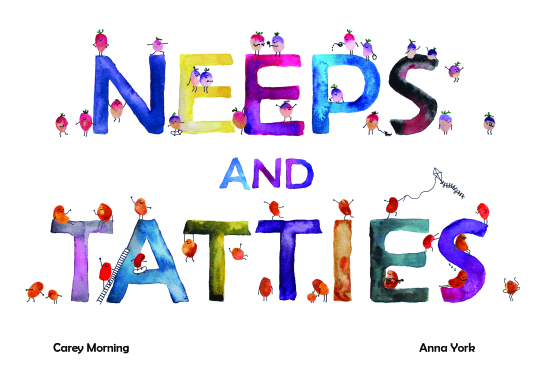 'Neeps and Tatties" by Carey Morning and illustrated by Anna York
This is a really beautiful book and a new favourite of mine. Written in Scots language and verse, do not be put off looking at the story and trying to work it out if you are not a native speaker of Scots. Certainly most children would be able to use the illustrations to form ideas about the content of the story.
The book tells the tale of how the famous Scottish culinary combination of haggis, neeps and tatties almost never happened as the neeps (turnips) and tatties (potatoes) just could not get along.
They argued, they fought, they moved to separate towns, they built up walls and segregated themselves from each other spreading myths and misinformation about the other group, and promoting distrust amongst their children…
Until one day, a haggis played a beautiful tune that both sides could hear. While most of the neeps and tatties were suspicious of the haggis, all it took was one curious neep and one curious tattie to make change…
A highly recommended book for upper primary and beyond as they would most benefit from the reading and learning of the Scots. But, certainly a book that younger children could enjoy and decipher the main messages from.
You can download a FREE copy of the book here.
---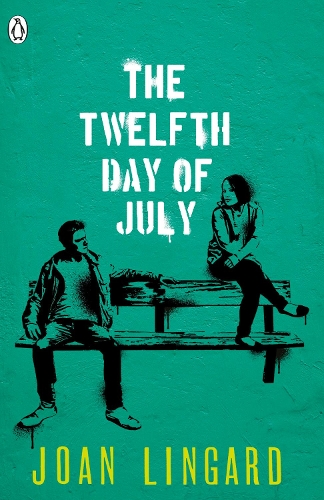 'The Twelfth Day of July" by Joan Lingard
This is the first book in the Kevin and Sadie series, I highly recommend all of the books in this series as an exploration of the topic.
In this book, Protestant Sadie and her brother are looking forward to the annual 12th July celebrations of the Protestant and Loyalist community in Northern Ireland and Scotland. Kevin, a Catholic, is out making trouble in a Protestant area of town- traditionally the Catholic and Protestant communities lived in segregated areas and there are 'Peace Wall' built to separate them in Belfast.
Sadie and Kevin's worlds collide and the book explores how the two develop an unlikely friendship and the hardships faced by people who come from different communities with preconceived ideas and prejudices about the other.
A Highly recommended addition for class and school libraries.
---