22% of the British population is disabled and 18% of that figure are of working age. There are disabled children in every classroom in the UK, some with visible disabilities and many with hidden disabilities. Unfortunately, there will also be many children whose hidden disabilities may not yet be formally recognised or identified.
You can help to beat the stigmas and misconceptions around disability by acknowledging the presence of disabled people in the world and one way you can do this is by ensuring your school, class and home library includes books with disabled characters in them.
You can donate a book to my read and review project via my Amazon wish list, and authors or publishers can contact me if they wish to send me a copy of their book.
---
'Amazing' by Steve Antony
Amazing is a lovely story about a boy and his pet dragon, Zibbo. The beautiful illustrations show all of the things that the boy and Zibbo get up to, just like all friends do. No matter what Zibbo does that is not expected, he is amazing just the way he is.
One of my favourite things about this book is that the main character is in a wheelchair, but this is not referenced in the story, it is just part of illustrations. It is so rare to have disabled characters featured in books just as they are, without their disability being a main feature of the text. But, disabled people are all around us, so books featuring disabled characters where disability is not the focus always get a recommendation from me.
Highly recommended for nursery/school libraries and for the home.
---
'Goat Goes To Playgroup' by Julia Donaldson & Illustrated by Nick Sharratt
This is a lovely book, written in rhyme, that is ideal for an early years library or home library. It tells the story of Goat's day at playgroup and some apparent mishaps. Goat is an unconventional character, doing his own thing and he does not act in the way that many of the other children at playgroup do… but he goes about his day, all is well and he goes home at the end, ready for another day.
I particularly like this book because Goat just goes about his day, but they do not try to change Goat or intervene in any way. So this book is a useful resource to help normalise that children might think and act in ways that are not expected, but that is ok!
---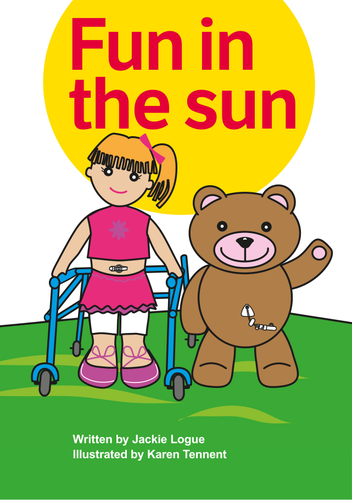 'Fun In The Sun' by Jackie Logue
This is a lovely story for younger children. While it does not mention disability explicitly, the illustrations show that children with feeding tubes and splints can enjoy all of the same things that other children can too. Books featuring disabled characters are inclusive and help to bust stigmas around disability, so I would recommend this book for young children.
You can access a free pdf of the story on the Scope website here.
---
Hattie and Friends series by Lesley Berrington
The Hattie and Friends series is made up of four books, 'A Day at the Seaside,' 'A
The Hattie and Friends series is made up of four books, 'A Day at the Seaside,' 'A Day at the Park,' 'A Day at the Zoo' and 'A Day at the farm.' All four books feature the main character Hattie being taken on a day out with a different friend each time.
Although it is not mentioned in the text of the story, each of Hattie's friends has a different disability and this is evidenced throughout all of the beautiful illustrations.
The author decided to write these books when searching for disabled representation in books for children in the nursery she worked in and realising that most of the books out there were written to teach about disability specifically. She wanted books that just included disabled characters without the story being focused on disability, so that seeing disabled characters was normalised for young children.
I thoroughly enjoyed the stories and the illustrations and recommend the books for any early years setting and home library. I'll certainly be buying some as gifts for the young children in my life.
You can purchase the series here.
---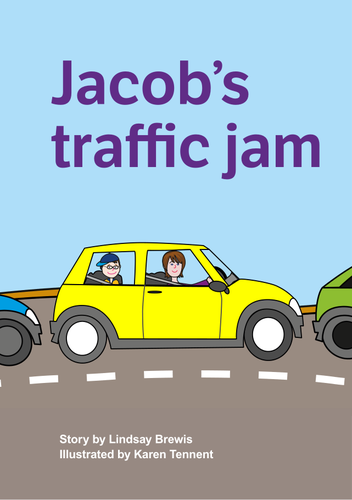 'Jacob's Traffic Jam' by Lindsay Brewis
This short story is a way of explaining Cerebral Palsy to young children using the analogy of a winding network of roads that means the car takes longer to get to its destination.
It may be useful for young children with Cerebral Palsy or as part of the library in your early years setting to show why some children might have hands that don't move as quickly as others.
You can access a free pdf of the story on the Scope website here.
---
"Freddie and the Fairy" by Julia Donaldson, illustrated by Karen George
Freddie meets a Fairy who grants him lots of wishes, but she does not always get them quite right! Even though the Fairy tells Freddie that she cannot hear very well, Freddie still mumbles and looks away when he speaks. Then, a Fairy Godmother appears and tells Freddie the three rules of speaking clearly so that lipreaders like Fairy can understand what he is saying.
This is a lovely book written in rhyme and just as good as all of Julia Donaldson's other books. Usually I would use in Early Years, but I think the message about the rules for speaking clearly are very important for supporting lipreaders and other people with hearing issues, such as Auditory Processing, so it is still a valuable book to have amongst lower primary class libraries.
---
'The Biggest Surprise Jadon and the Talking Trains' by Taneisha Pascoe-Matthews
This is a really lovely book that is about a young Autistic boy who loves trains and is disappointed to find that the trainset he wants is no longer sold, until he gets a surprise.
While the main focus of the story is Jadon's love of trains, there is information peppered throughout the story describing some common Autistic traits and the author explains these in a matter of fact way that is also very positive.
I particularly like the messages about communication- Jadon is non verbal but he communicates well with his family using technology, visuals and Makaton signing. Many adults in schools often forget that just because a child is non verbal, that does not mean they cannot hear what is said about them and does not mean they cannot communicate.
I recommend this book for home and class libraries, but not just for classes that have Autistic children in them with similar traits to Jadon. It is a good story for illustrating that some people may have differences, but that is perfectly ok and does not stop them living a full life.
---
'The Lonely Little Star' by Cathy Summar Flynn
This is a story about a little star who is different to the other stars. From the moment he is born, the doctors and nurses whisper about him in the hospital and give him a name that his parents did not ask for. The little star also experiences bullying and wonders how he will fit in as other stars seem to have a clearer purpose than him.
The book has a very strong Christian theme to it, in that it describes how God has a destiny for everyone and God makes decisions that will benefit everyone in the future. The story starts off with specific reference to a Psalm.
The other theme of the book seems to be friendship and that even if you feel lonely, God has created a friend out there that you will ultimately find.
This book may be suitable for use in Christian schools or Christian households and may comfort children who are experiencing exclusion from their peers, bullying or having issues with peer relationships.
Due to the strong religious theme throughout, it may not be suitable for use in non denominational schools.
---
'Celine's New Splints' by Celine and Scope
This is a good short story that explains what splints are, how they are worn and the different things you can do like children who do not wear splints.
This would be a useful book for children who wear splints to show them a positive image in a story, but it is also useful for other children to illustrate that disabled children can do the same things as them and help normalise disability.
You can access a free pdf of the story on the Scope website here.
---
'Haylee's Friends' by Michelle Rundle and Emma Birch
Haylee has Cerebral Palsy and uses a number of aids to help her including a walking frame, adaptive chair, splints and lycra suit. Whilst out walking the dog with her dad, Haylee asks him why she can't walk like other people and he explains this to Haylee using an accessible analogy.
This book would be useful for children with Cerebral Palsy in helping to explain how their brain communicates with their body, but it would also be useful for class libraries in that it explains clearly to all children that some peoples' brains and bodies work differently, but that is ok and that is why they use different aids to help them.
You can access a free pdf of the story on the Scope website here.
---
'My Brother is an Astronaut' by Michelle Rundle
This lovely story is told by Jake's sister who explains his different sensory needs and characteristics in a positive and sensitive way. There is no specific disability mentioned in the text, but the story is relevant to Autistic children and those with ADHD.
This book is ideal for class libraries as it explains how children who might act differently to others feel in an accessible way.
You can access a free pdf of the story on the Scope website here.
---
'Moses Goes To A Concert' by Isaac Millman
Moses and his class attend a specialist school for the Deaf and in the book they go on a field trip to a concert with an orchestra where the percussionist is also deaf. The children stay behind after the concert and get to play on the percussion instruments.
This book challenges perceptions of the Deaf community and shows that even music, which people traditionally associate with hearing, can be accessible with the right support. It is also a REALLY fun book to introduce signing with or learn more about signing.
The signs throughout the story are ASL, but I think that British children who are unfamiliar with signing would still enjoy learning to do the signs and I doubt it would put them off learning BSL signs in the future that differ.
If there was a BSL speaker in school, I would also ask them to help us learn any BSL signs that differed from those in the book. I also think that it would be a good book to use with a class before launching the use of Signalong or Makaton as an additional, inclusive, communication system.
I would use the book in lower primary, but there would also be some classes in upper primary with children who might enjoy reading this book specifically to learn the signs. So a good one for whole school libraries that can be accessed by a lot of different children.
---
'Hi, It's Me! I Have ADHD' by Katelyn Mabry
This lovely story is written in rhyme and is about a female character and her time in school. Although the title of the book references ADHD and there is an explanation of what ADHD stands for at the beginning, and a more positive explanation of what ADHD could stand for, ADHD is not referenced specifically during the course of the main text and rhyme.
What I really love about this book is that it manages to convey the challenges that children with ADHD experience every day in school in an incredibly positive way. It also includes the strengths and positive qualities of ADHD that are often forgotten and ignored, but make up so much of the characteristics of an individual with ADHD.
This book is multifunctional in that it would be a positive book for a child with ADHD to read and they would no doubt identify with many aspects of the story, but it is also a good positive book to have in a class library so that other children can read and learn about ADHD, as they are likely to have heard the term and probably not in a good light.
Additionally, school staff would benefit from reading the book. In the absence of adequate CPD on ADHD in the education sector, there are a lot of harmful and damaging misconceptions about the condition existing amongst education staff.
---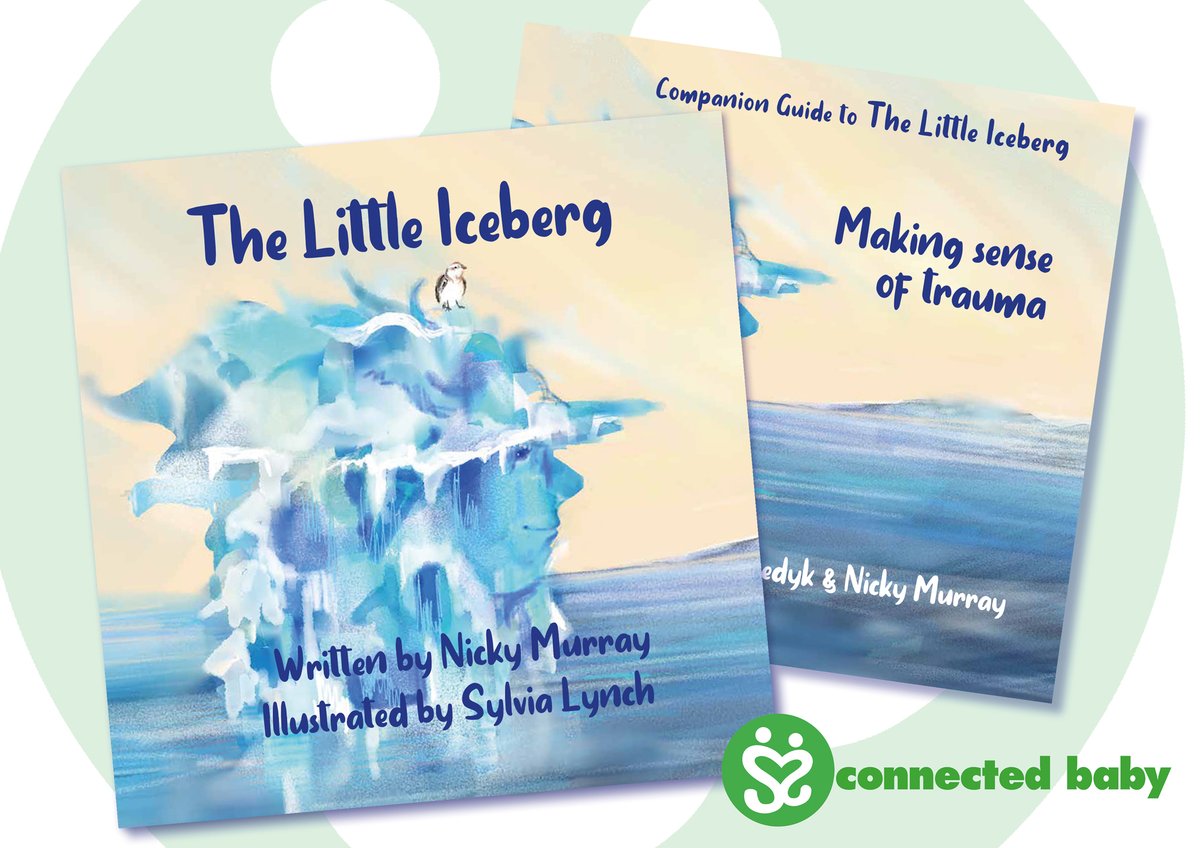 'The Little Iceberg' by Nicky Murray, Illustrated by Sylvia Lynch
This is a beautifully written story with equally beautiful illustrations throughout. Despite having read it several times, it never fails to bring a tear to my eye each time- in a good way!
The little iceberg sits alone in the ocean, anytime something comes near her they become scared and leave her all alone. That is, until a little bird called Kindness comes along, singing a song called 'Compassion' and stays connected to the Little Iceberg that helps her return to the ocean.
This is a brand new book that came out in summer 2020 and I have used it with a Primary 3 class this year as a class reader with linked activities. It could easily be used with other year groups and with small groups.
In the future, I would certainly use it with individual children who struggled to make trusting relationships with adults in school to help them understand their feelings and why they feel that way.
This year, I have used it as a Word Boost book to improve vocabulary. I also see a lot of drama potential and would love to stage it as a class production in post COVID times when we do not have to socially distance.
The book is also very useful for adults in helping them to understand trauma and comes with a companion guide, 'Making Sense of Trauma' written by Nicky Murray and Dr Suzanne Zeedyck.
A highly recommended purchase for schools to use in class and as part of emotional literacy and regulation work.
Purchase is through Connected Baby here.
---
'Autism & Sea' by Amy Le Dain
This is a very cute book for younger readers by own voices author Amy. Written in rhyme with beautiful illustrations, you are taken on a magical adventure through the sea as different creatures describe their characteristics in order to help children understand Autism, and that it is ok to be different.
Ideal for Early Years, and home libraries to help younger children understand more about difference. Also ideal for Autistic children as there are fictional characters they can identify with and use as a catalyst to discuss their similarities and/or differences to the characters.
---